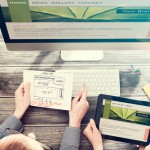 Whether you are looking for a new site or want to redo an existing one, our web design team is here to help! We have worked with a broad range of clients from construction contractors to dating sites, and personalized each creation to our client's needs. Our Clearwater designers are superstars who create easily-managed sites so that you, as a client, have full access and control of your content.
Designing and Developing a Site
We sit down with new clients in Clearwater and have one-on-one meetings so we can truly get a sense of who you are, what you do, and how we can communicate your message via web design. At Strategic, you'll be assigned to one designer who will act as your primary contact throughout the designing, testing, launching, and post-launching stages. Our designers use a variety of elements to make a site, including:
WordPress and Joomla!
Interactive engagement
Plug-ins and graphics for all browsers
Fluid layouts and motion graphics
Search engine optimization
Languages such as HTML, CSS, PHP, jQuery, and JavaScript
The best part of what we do at Strategic Media is that everything is done in-house in Clearwater. Come to our offices and we'll walk you through the development room and the writing room, where your website is created and then filled in. Each team member meets the client in order to understand their needs, voice, and tone so that the web design and content tell a cohesive tale. Our sites convert viewers to customers with compelling visuals, creative graphics, and functionality.
Mobile Sites
One of our many specialties is mobile web design. With 75% of users using their smartphone to look up information, it's essential to have a site that is friendly for mobile users. Mobile sites work great in conjunction with full-scale desktop sites because we can easily make it responsive; that means, whether someone is looking at your page on a computer in Clearwater, a smartphone in St. Petersburg, or a tablet in Tampa , the orientation of the page will automatically adjust. No more pinching to zoom and flicking to see the whole page!
SEO Compliant
Your website is a primary driving force for earning customers, and most find your site through a search engine. SEO —search engine optimization— is what makes certain sites appear high up in the search results. So, if you want your page to pop up as the number one result on Google, you need SEO services. Our designers input certain elements and variables in the coding of your site in order for search engines to pick up keywords, tags, and other indicators. Search engines even take web design into account when ranking sites on results pages, not just content. In other words, we know what Google wants. Drive your Clearwater business to the top with a little help from us.
Local SEO
As a company, we specialize in online marketing, but more specifically, local SEO. When someone searches for a mechanic, they don't type "mechanic" into the search engine and hit go, expecting someone nearby to pop up. Rather, they search "mechanic in Clearwater" or "Tampa mechanics" in order to find a service local to them. Our designers and content writers craft your site so that local geotags are picked up by search engines, putting your page at the top of the results. The architecture of your site is made to attract local customers, and the content is written specifically for customers in your business's area. Even the Yellow Pages have moved online, and searching the internet is the number one way potential customers look for businesses. Get noticed with spectacular web design and local SEO that can't be stopped.
Get Started with Strategic Web Design
Located in the heart of Clearwater, Strategic Web Design is ready to take on your website designing needs. Come in and chat with us about what your goals are, what you want out of your site, and how we can work together to achieve more. Designing concepts and methods are always changing, as are SEO strategies and rules. It's our job to stay on top of the game and keep our clients' sites fresh, relevant, and functional. Visit us today or give us a call at 727-531-7622. Join us and take advantage of your online potential.