At Strategic Web Design, we also specialize in websites built with Joomla. And what exactly is that, you might ask? Some type of cutting edge programming language? No, Joomla, as is WordPress, is a popular Content Management System (CMS).
So, the next question would be- what is a CMS? It is a powerful, open source software application that can manage and organize enormous amounts of information. In addition to Joomla, other content management systems available for websites include WordPress and Drupal.
Are you familiar with the concept of Search Engine Optimization (SEO)? To put it simply, SEO is a very complicated, detailed process that determines how easy your website can be found in each search result list. Understanding the elements that are involved in the SEO process, could make a huge difference between a website match turning up on the first or second page of search results, or ending up on the fifth, tenth, or even twenty-fifth page! Rankings are determined by written content and visitor traffic, as well as the length of time that the website has been in the web base, among numerous other factors.
At Strategic Web Design, we are experts with SEO strategy and we understand what it takes to make Joomla websites search engine friendly. As you can see by our Joomla website examples, we make sure that your site is indexed for the proper keywords and phrases for Google and other popular search engines.
Why do our expert web designers offer Joomla in addition to WordPress and prefer both over the Drupal content management systems? Drupal is typically used to manage extremely large websites such as community news sites, business community sites, newspapers, corporate intranets, online chat forums, and university portals. Joomla or WordPress, on the other hand, are an excellent choice for small and medium sized businesses, as well as large conglomerates; are well known for its variety of attractive themes, flexibility, available functionality, and enhanced security for sites. Websites can be quickly designed and delivered and is extremely end-user friendly. Perhaps most important is the cost-effectiveness; since both Joomla and WordPress are open-source software programs, are easily downloaded, do not require any licensing or other fees, offers a wide variety of plug-ins and module add-ons, and boast a large, ever-expanding community of developers and users.
See our Joomla website examples on our Portfolio page and let us create your new site!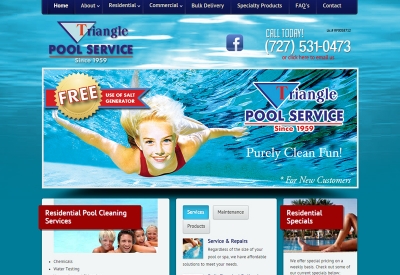 Now that you've seen some corporate versions, take the time to visit our client portfolio. Our clients in Tampa, Clearwater, St Pete, Sarasota, and Orlando also represent a wide-range of local industries. We believe in building Joomla websites and utilizing the wide array of Joomla modules for the same reasons as our corporate counterparts.
Tell us which of our Joomla website examples is your favorite!
Call us today at 727.531.7622 in Tampa, Clearwater, St Pete or Orlando - let us design one for you!