Video on Website – Trends in online technology come and go with the wind. From the World Wide Web's early beginnings in 1990, and for the next several years, webpages were mostly available in text-only, menu-driven format. Graphical access to the internet debuted in 1994. Throughout the late 1990s and early 2000s, various browsers appeared and disappeared overnight (remember the once-popular Netscape?). Webpages with audio were slowly cropping up while sites offering video on website were just catching on.
Jazz up your online presence with a short 1-2 minute video on website.
Let us show the world what your company does! Call us today at 727.531.7622.
Dot-coms, companies that strictly do business online, proliferated in the 1990s until their bubble burst in 2000 as the U.S. economy fell into recession. By then, online marketing was emerging from its infancy. The year 2001 saw the launch of iTunes by Apple, as well as the launch of Wikipedia. MySpace debuted in 2003, Facebook in 2004, Twitter in 2006. For several years, MySpace was "the" online happening social network place to be; today, it's Facebook.
It wasn't until 2005 with the emergence of YouTube, that famous video-sharing website, that today's video technology exploded. Everyone wanted to add videos on their websites, often turning to the services of video production companies. Here was a new way to market your products and services! Then came the realization that rapid changes in digital video technology subtly forces companies to continuously redefine and market themselves both on and offline. In other words, your marketing strategies must be ever flexible to keep you ahead of your competition.
How do you stay ahead of the game? The tech-savvy could go the do-it-yourself route and become a video production guru along the way. However, in order to build and maintain a website, you would have to know something about designing one. You would have to know how to link to YouTube videos, and how to embed a video on your website. You would have to know the difference between the various audio file types, and when to use each file type. Flash-based files look great when running on a laptop or PC, but they're not supported by most mobile devices, which in turn limit who can view your videos. In addition to knowing how to use this technology, you would also need to understand copyright laws regarding using material and media found on the web (or else you might find yourself slapped with a "Cease and Desist" order and a demand for payment from the content owner).  There are so many do's and don'ts that it will make your head spin!
We are your experts in online marketing!
Let us show you how adding a custom marketing video on website can significantly expand your customer base! Call us today at 727.531.7622!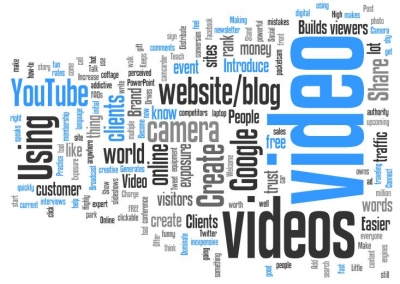 Video has always been and always will be one of the most powerful tools of visual communication. A film clip with rich visual appeal is one of the best means of presenting your product or service, especially when geared toward your potential online clients. As such, creative, customized videos are increasingly popular in today's realm of web design.
Yet, internet marketing campaigns cannot rely on non SEO videos found on YouTube or elsewhere online. As part of your marketing strategy, you need to customize and optimize all of your video on website efforts to present your company's products and services in the best possible light. Going the do-it-yourself route entails purchasing or renting the appropriate hardware and learning how to run it. Someone has to write a script for the actors to follow. Should you use your own employees or do you hire professionals? We can't forget the video production software, yet another application to obtain and learn how to use. Just which software program do you choose?
So how do you stay ahead of the game and your competition?
Hire a company skilled in website design and online marketing. Call us today at 727.531.7622.
At Strategic Web Design, we provide professional online marketing packages that include: creative custom website designs, extensive SEO techniques, and most importantly, professionally choreographed videos for websites. Our talented, tech-savvy web designers have years of experience and a passion for what we do! We will work with you in customizing the video, design, and content on your website that will fit all of your advertising needs.
The longer you wait to develop an online presence complete with your video on your website, the harder it will be to catch up to your competition! Let us navigate the do's and don'ts when it comes to creating a video for your website. So don't delay, call us today! We will help you gain a real advantage over your local competition in the Tampa Bay, Florida region.